APM Project Management Qualification (PMQ)
The APM Project Management Qualification (PMQ) - a knowledge based qualification developed by APM, the chartered body for the project profession. Candidates will be able to demonstrate an understanding of how these elements interact and how their project fits into their strategic and commercial environment. PMQ is an internationally recognised qualification.
The APM Project Management Qualification is aimed at those wishing to achieve a broad level of project management knowledge sufficient to participate in projects from individual assignments through to large capital projects. Applicants typically have some pre-existing project management knowledge, and it is the ideal next step for anyone holding the APM Project Fundamentals (PFQ) qualification.  Candidates can now study in various formats including classroom, virtual or supported distance learning.
NEW 2023 PMQ LIVE VIRTUAL AND CLASSROOM DATES ARE NOW AVAILABLE

APM supporting information
Download the syllabus, learning outcome and assessment criteria aligned to the APM Body of Knowledge 7th edition.
The syllabus also outlines the content of the PMQ course and the areas that you will study in order to exam ready.
The assessment criteria will be examined using 16 written response questions in a three hour exam. Download the PMQ sample paper and review the style and format of questions that typically form the PMQ exam.
You will review these and much more during your study of 20 key subjects which are critical for the success of any project.
Download the candidate guidance information to find out how your exam will be structured and the specific exam rules that apply to the method you have chosen to sit your exam.
All APM exams are now provided as online exams which can be sat at a time and location (even at home)to suit each candidate.
Why learning with Edison is the right choice for you?
Our aim is to provide you with the best learning opportunities as economically as possible. We appreciate that you have a choice, however we do provide some unique innovations which most of our competitors don't provide as yet! When you book the PMQ you get the following;
all courses come with structured learning material (except APM directly produced material) you receive this in advance of the course, excellent for preparing you for exam success - first time!
there is a dedicated course website and you will be given a unique log-on which will allow you to gain a flavour of project management while sitting at your home or office, you can do tests and see just how your preparation is coming along and even contact your tutor prior to attending.
all virtual sessions are recorded and can be viewed during exam revision.
THIS COURSE IS ALSO AVAILABLE IN LEARNING IN A BOX®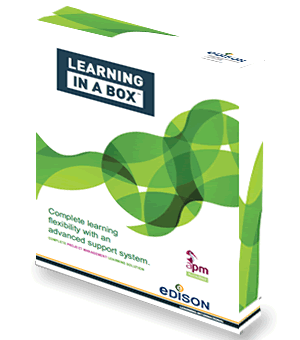 The new updated Version 7 of our LEARNING IN A BOX® is now available for APM BoK 7th edition and contains some of the most advanced learning material to ensures that you will achieve exam success first time. The box contains everything you need to successfully complete the course without the need to attend lectures.
Contents include study guide, case study, online portal and assessments and full online access. You are also assigned a tutor who will communicate with you over a flexible study period (usually 20 weeks for PMQ study).
During testing candidates said it was just like the real thing but that you could study in your own time and comfort of your own environment.
ALL OUR COURSES CAN ALSO BE DELIVERED AS VIRTUAL LEARNING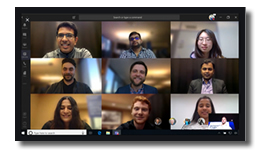 The PMQ course is delivered over a five day period with the exam being sat online by delegates, usually the following week, to allow some revision time, but this is optional, the exam can be sat at any time to suit the delegate requirements. The course is delivered just as the face to face classroom version. Candidates will complete tasks and exercises and sample exam questions during the online sessions. Sessions are recorded for candidates to review as revision and exam prep. Prior to attending the course, candidates will need a web enabled camera and will be required to download and use an online meetings app. Full details will be provided prior to attending.
If you or your team feel that this will be an attractive way of gaining the PMQ then please contact us to discuss more.
NEW 2023 PMQ LIVE VIRTUAL AND CLASSROOM DATES ARE NOW AVAILABLE