Learning your way...
Conventional classroom learning is most commonly called for but sometimes there is a need for a different approach.
The range of qualifications developed by APM, the chartered body for the project profession, offers a progressive structure for your career development, from courses offering the 'fundamentals' of project management through to 'management' and 'professional' levels of understanding, requiring more advanced learning and assessment.
APM qualifications offer a clear route to achieving both the Chartered Project Professional (ChPP) and the APM Registered Project Professional (RPP) standards, recognising the competence and success of project professionals.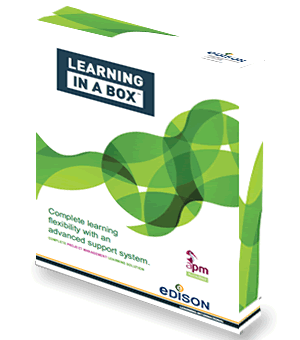 Introducing... LEARNING IN A BOX® - Everything you need to gain an APM project management qualification. The new version 7 supports the APM Body of Knowledge 7th edition. Tutor supported course and exam all online.
The box contains everything you need to successfully complete the course without the need to attend lectures. Contents include study guide, case study, online portal and assessments and full lectures delivered with live tutor interaction. You are also assigned a tutor who will communicate with you over a twenty week study period.
During current testing candidates say it was just like a classroom but that you could study in your own time and comfort of your own environment.